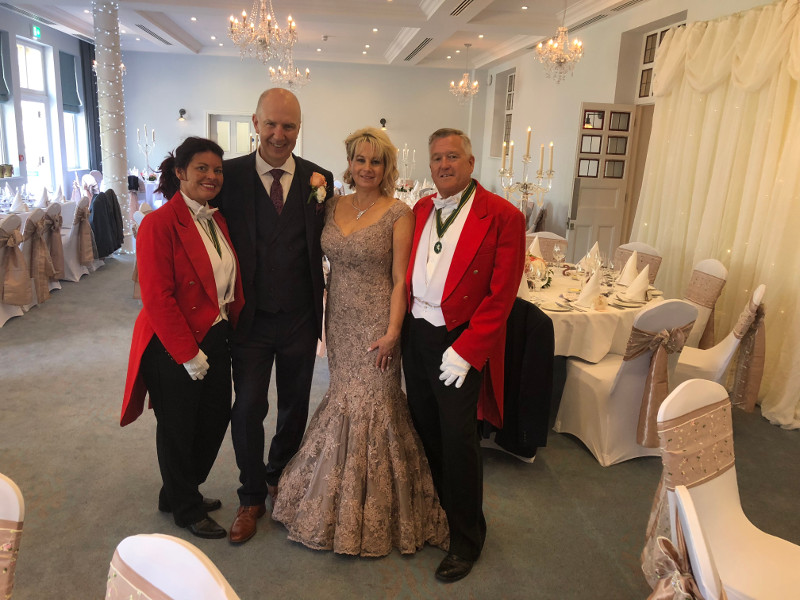 Our wedding was at The Yarrow Hotel in Broadstairs on 27th May 2018 and the largest one this venue had ever held with 120 guests attending the wedding breakfast.
We thought that we would feel more reassured if we had Toast Masters in attendance and very luckily for us we found Jon and Nikki.
From the minute they came to see us at our home their incredibly friendly and organised manor gave us the reassurance we needed and that so many of our worries and concerns would be taken care of.
On the day of the wedding they were just superb with Jon looking splendid in his red jacket welcoming all the guests when they arrived. Jon was just the perfect gent helpIng people out of their cars with a welcome smile and just made the whole start to the day have that really upmarket feel.
Nikki was busy organising all our button holes and ensuring our pocket squares looked just perfect. Doing all this while continually checking on the bride and bridesmaids just to make sure everything was going to plan.She then escorted them all down the stairs in the right order so they came outside and up the aisle looking incredible and making the most amazing entrance
Organising the drinks at the reception to overseeing the musician, to ensuring every photo we had pre arranged was taken, everything ran like clockwork and nothing was missed.
Jon and Nikki also recommended a fantastic DJ for us and a superb characaturist.
Before we met Jon and Nikki I was under the impression that Toast Masters just simply announce you into the room and organise speeches etc. We were so wrong having now seen what Jon and Nikki do, how much pressure that take off you. We can honestly say that we don't know how weddings run without them.
Everybody loved our wedding day the complements we have had have been amazing and we know we wouldn't have had such a fantastic day without the help of our Toast Masters.
Many thanks Jon and Nikki you were simply the best.