They had an amazing day – I think the highlight was seeing them return from their giraffe encounter, where they hand fed the giraffes.
A truly memorable wedding day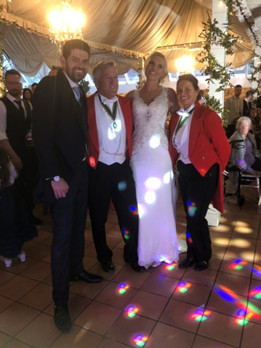 Hi!
I want to say how incredibly grateful we were to have Nikki and Jonathan as our toastmasters on our special day. We had 125 guests in the day and can honestly say, it would have been an unorganised mess if it wasn't for them! Even my Nan says 'those in the red jackets made so much effort with me and helped me loads'. Now just hearing that from my Nan makes me realise straight away we made the right decision in asking them to be our toastmasters.
Not to mention Nicks ushers wouldn't have a clue what to do or where to start! I was so worried about how stressed out I thought the day was going to be for me, but having Nikki and Johnathan there to calmly guide us through the day really did put me as ease, in fact the only part I was stressed at was right at the beginning getting ready - and they weren't hired for this part!
My highlight was walking down the aisle and seeing them both standing there with our favourite drink in their hands at the end - now if that isn't 5 star service, I don't know what is!
They didn't just make the day a lot more organised, they made the day all about Nick and I. The one thing it should always be.
Thank you so much to you both and we certainly will never forget the effort you put in for us and our friends and family.
Much love,
Amy and Nick x
Port Lympne Hotel & Reserve 18th May 2019